Greetings and salutations survivors! We're back again with another monster of an update! (No pun intended) This time around we've got major bugs fixed, gameplay updates, and new content, so without further delay let's get right to it!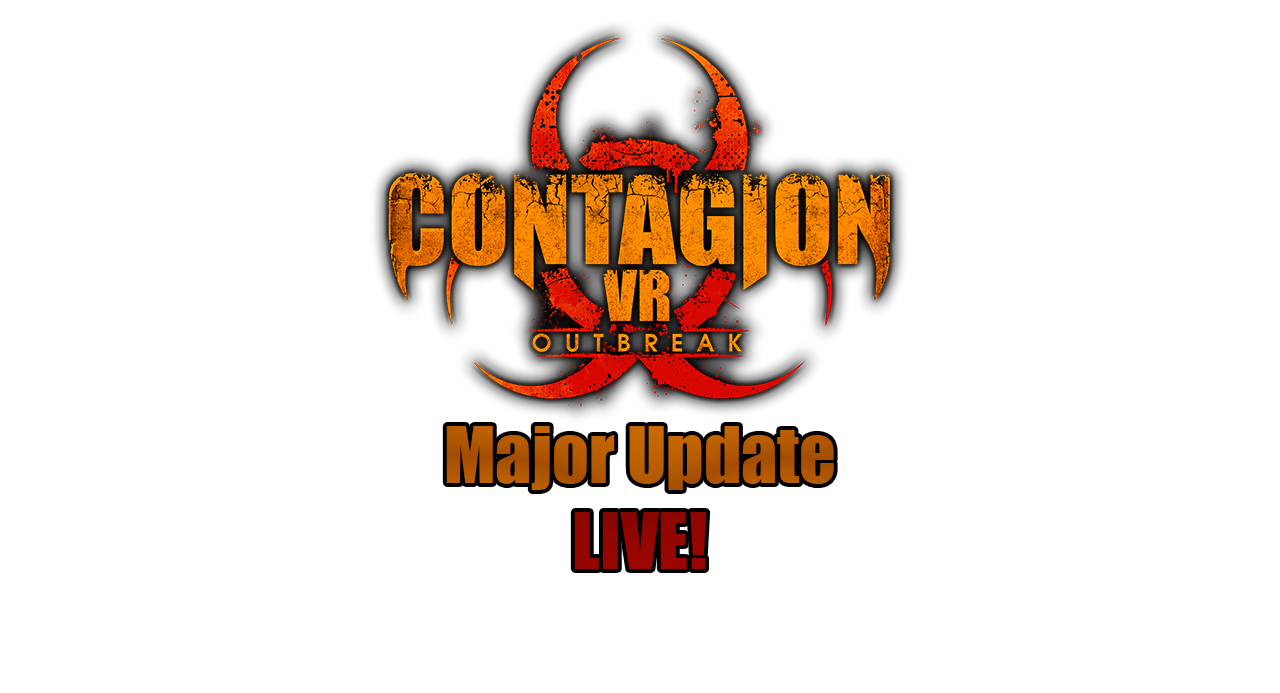 First we would like to announce that as of this writing, all known critical bugs are hereby fixed! This includes the ever annoying toggle grip related bugs that were numerous and often revealed its ugly head at the most inopportune times. No longer will objects get stuck in your hands preventing you from being able to drop them. If anyone should still experience this or anything similar with toggle drip, please let us know but after a week of constant testing, we're confident that bug has finally been squashed after the code was entirely re-written. One other not so exciting but significant part of this update is that we have optimized well over an excess of 1,000 textures, so users should see an increase in performance with this update.
Next up we'd like to also talk about gun mechanics, and zombies! Specifically the balance of the two and how they coexist. After much work and iteration, we've significantly changed the balance of that relationship. Zombie health has had a bit of a rework and as you will soon notice, you are able to knock down zombies with a well placed smack from a melee weapon, or a blast from a shotgun. Not only did we rework zombie movement, but now all weapons are capable of staggering zombies, as well as knocking them down. All weapons in the game have been re-tuned and rebalanced. Our hope is that the weapons in the game meet player expectations of how effective they should be versus zombies. So please, jump in and give it a try and let us know what you think!
A little more than a week ago, we reached out via our discord channel and on social media with a poll regarding free roam mode. We've gone over the results and after some internal discussions with the team, we've begun the process of restarting that mode from the ground up. We are still working in parallel with creating our next single player mission while also making rapid progress on breathing new life into free roam mode. We'll have much more to talk about this in future dev blogs and releases. In the meantime, we've reworked the original Dustbowl map for free roam and are releasing a new map we call Bunker. Both maps are accessible as part of this update.
New Map Bunker (Free Roam)

But wait! ..in safety, as now if you open the menu in game, open the Oculus Universal Menu on Rift, or just take off your VR Headset the game will pause, keeping you safe while you take a break. No more getting killed just because the pizza arrived while you were mid-game.
Also – Oculus users can now toggle the ingame menu with the left hand menu button, and enjoy the now fully dash-supported transition when they press the right one.
On top of adding a new map, we've also been working hard on getting lots and lots of new weapons into the game. As of right now, we have a total of 30 firearms total in our arsenal. As for melee weapons, we have a total of 13 with another 10 waiting to be added to the game. While the bulk of these are not yet in public release, we'll be adding more weapons each new update starting right now. New in this update are the following…
M-11 silenced machine pistol

Desert Eagle pistol

Gruber pistol

AP-85 pistol

AK-74 rifle

As we continue adding content and improving on the fundamentals of the game, we are also continuing to work on update 6 which will feature our next single player campaign. We have some truly special surprises in store waiting for you in that update but in the meantime in case you missed it, here is a current screenshot from mission 3, enjoy!
Mission 3 Preview

From all of us at Monochrome, we thank you for the continuous support, we'll see you next update!
Update 5.3 Changelog
New Additions
New Map "Bunker" (Free Roam)

New Firearm M-11

New Firearm Desert Eagle

New Firearm Gruber

New Firearm AP-85

New Firearm AK-74

Zombie knockdown system
General Updates
Free Roam Redux Version 1.0

Dustbowl (Free Roam Redux)

Firearms rebalanced

Zombie AI rebalanced

Zombie audio reworked

Riot Boss audio updated

Multiple firearm audio updates

Hand pose grip animation smoothing

Enhanced UX throughout project

Pause system

Teleport range increased

Riot boss damage feedback

Airdrops added to free roam

Extraction event added to free roam

Credits updated

1000+ textures optimized

Tutorial scripting improved

Free roam objective markers

Removed crafting (for now)

Moved Biotec crashed vehicle in Outbreak

Removed Biotec card from garage in Outbreak
Bug Fixes
Toggle grip (Rejoice!)

Shotgun ammo stuck in hand

Objects stuck in hand

Icons rendering in 1 eye

Weapon reloading

Crossbow
Known Critical Issues